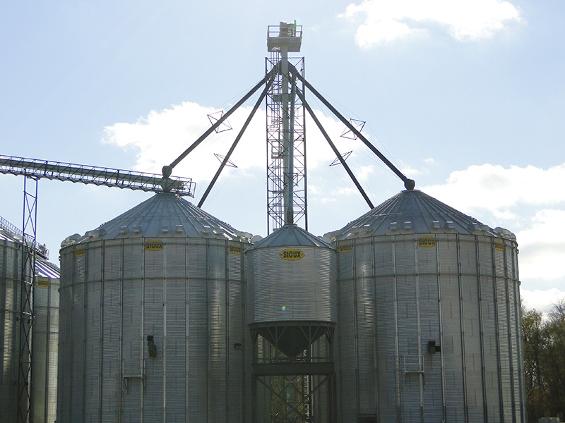 Sioux Steel Company has spent nearly a century focused on providing value to their customers. What started in 1918 as a dream to start a steel corrugating business has grown into a fourth- generation, family-owned company that manufactures products that provide solutions throughout the world.
Sioux Steel manufactures Commercial, Farm-Comm, Farm, and hopper bin corrugated grain storage. Additionally, Sioux Steel manufactures the Daay Sweep-- an augerless grain sweep for both farm and commercial applications.
Material Handling Products
RAD is a leader in the manufacture of bulk material handling products. The extensive line of award-winning equipment in the industry incorporates engineering innovations to deliver superior products

RAD EQUIPMENT was founded in St-Hyacinthe, Canada in 1974 and specializes in the manufacture of conveyor equipment, storage and packaging for bulk materials. Combining manufacturing its own products for distribution of complementary products, RAD EQUIPMENT offers its customers comprehensive and customized solutions.

RAD equipment's aim is to provide the best solution in the field of handling processes, processing and storage of bulk material, ensuring the highest level of customer satisfaction while promoting employee development climate.
The RAD factory works according to recognized standards, which are among the highest in the industry. To accomplish this, theyrely on a team of highly specialized workers and specialize cutting and forming-metal equipment. With more than 40 000 square feet at our disposal, the RAD team is able to design and manufacture equipment based on specific details and with rigorous quality control.
Rad Equipment's Product Offering Includes:
Bucket Elevators
En Masse Drag Conveyors
Flexible Augers
U-Trough Drag Conveyors
Inclined Air Supported Conveyors
Hydraulic Conveyors
Utility Augers
Gentle Handling Elevators
U-Trough Screw Conveyors
Hammer Mills
Roller Mills
Mixers
Bag Discharge Systems
Bulk Feed Bins
Global Fabrication of Iowa
Global Fabrication is a full service fabrication shop specializing in agricultural products. They are located in Hampton, IA a short distance from I-35. With over 30 years of experience in the industry, they are manufacturing quality equipment designed for their customer's needs.
Their Product Line Includes:
Temporary storage systems
Bunker walls
Aeration
Transport stacking conveyors
Reclaim machines
Towers
Catwalks
Structural Supports
Super Structures
Articulated Loading Systems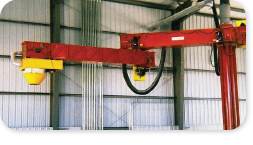 Dynatek Articulated EconoLoaders
Bulk solids loading systems are DYNATEK's passion and it's been that way for well over 100 years. Dynatek specializes in articulated loading systems.
Dynatek's Articulated EconoLoaders are:

Optimized For Each Application- Application-proven screw, belt, drag, air slide or pneumatic conveying solutions and post, haunch or platform mountings that match the material and load-out location perfectly.

Built For Tough Duty- EconoLoaders™ are built to last. Operational lives routinely surpass 25 years in some of the most demanding environments with only minimal preventative maintenance.

Built For Maximum Versatility- Articulated EconoLoaders™ eliminate the need to move most transport vehicles, even when loading both trucks and rail cars in the same loading center. With nearly 360 degrees of pendant controlled, powered rotation and up to a 30 foot reach radius, EconoLoader can be horizontally and vertically positioned quickly and accurately over each loading hatch.

Over the years, DYNATEK has successfully handled a broad range of bulk solids loading requirements for companies like BASF, OMYA, Fagen Engineering, Akzo Nobel, Dupont, General Mills and Nucor Steel.
DYNATEK's EconoLoaders™ have been selected time and time again by plant owners and designers for truck, rail car and barge loading applications in the biofuels, grain, chemical, plastics, fertilizer, minerals and power generation industries.

Welcome to Cardinal Grain- Since 1947 Cardinal Grain has been manufacturing robust, reliable grain handling equipment for the agricultural industry. For decades we led the industry with innovative grain handling and including legs, bin unloading equipment and accessories. By modernizing our processes and renovating our product lines new innovating designs, we are continuing our strong commitment to our customers, the dealerships that serve our farmers, and industry. We will exceed your expectations.
A Tradition
Our family grew up on the land of Cardinal Grain Manufacturing. We are proud to MANUFACTURE the products needed that helps feed the world. Thank you for supporting this tradition.
Delivery or Pick-up
We regularly ship our products all over North America and beyond. As a Cardinal dealer you have a choice, you can pickup or have us ship it out or even have your customer pickup. We will work with you.